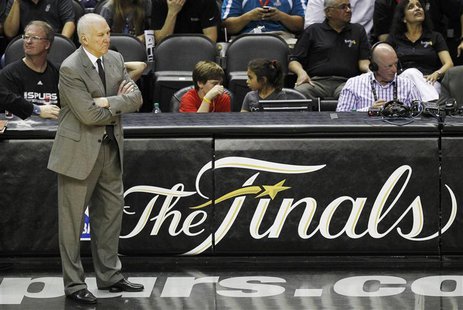 AUBURN HILLS, MI (WTVB) - Stan Van Gundy was officially announced as the new head coach and president of basketball operations of the Detroit Pistons Wednesday, one day after multiple media outlets reported the veteran bench boss would be joining the organization. Van Gundy led Orlando to the 2009 NBA Finals in 5 seasons with the Magic. He joins a franchise that has missed the playoffs in five straight seasons and posted its 2nd straight 29-53 campaign in 2013-14, costing longtime president Joe Dumars his job in April.
Last night the playoffs moved one step closer to a NBA Finals rematch from last season. The 2-time defending champion Heat sent the Brooklyn Nets packing in the Eastern Conference semifinals with a 96-94 victory at home in Game Five. Miami awaits the winner of the Pacers and Wizards series, with Indiana trying to close it out in Game Six tonight in DC. If the Pacers are victorious, it would be the second straight season they would meet the Heat in the Eastern Conference Finals and the third straight postseason overall.
San Antonio also shut down its series with the Blazers in five games with a 104-82 home win in the Western Conference semifinals. The Clippers try to avoid elimination in Game Six from the STAPLES Center tonight. During the 2012 playoffs, the Spurs swept Los Angeles in the semifinals then fell to the Thunder in the Western Conference Finals, 4-2.