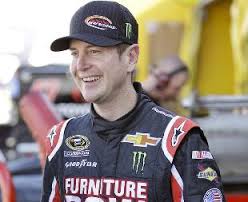 CHARLOTTE, NC (WTVB) - Kurt Busch came up 193.5 miles short of completing all 1,100 miles in his first Indianapolis 500/Coca Cola 600 "double" on Sunday. Busch became just the fourth driver to compete in the 500-mile race at Indianapolis Motor Speedway and the 600-mile event at Charlotte Motor Speedway on the same day. He completed all 200 laps, 500 miles at Indy and his sixth place finish was the highest among the seven rookies competing in the event.
Busch's teammate, Ryan Hunter-Reay, won the Indy 500 for the first time. He was presented the winner's check last night for $2.49 million. Hunter-Reay beat Helio Castroneves to the finish line by just 0.060 seconds, making it the second-closest margin of victory in the history of the race.
Attempting to match Tony Stewart's 2001 feat of running the full 1,100 miles, Busch's race at Charlotte ended prematurely when his car suffered engine failure after he had completed 271 laps. He finished 40th. Jimmie Johnson won the race for his first Sprint Cup victory of 2014. Next up in the Sprint series is Sunday's Fed-Ex 400 at Dover International Speedway.