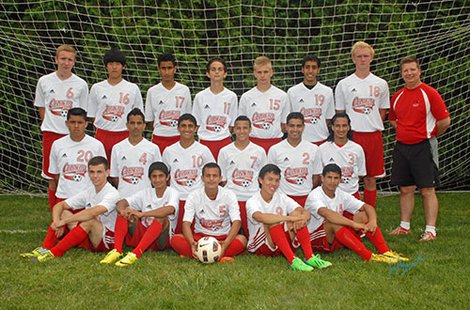 COLDWATER, MI (WTVB) - Wednesday night in boys high school soccer, Coldwater was a winner in its home opener as the Cardinals improved to 3-0 by pulling out a 4-2 non-conference victory over Battle Creek Lakeview. The visiting Spartans took the early lead on a long throw-in that glanced off a Cardinal defender for an own goal. Nooh Aljabably scored the first of his two goals on the night halfway through the first half, with an assist fromEthan Machida. Azam Ahmed put Coldwater in the lead with 5 minutes to play in the half off a corner kick from Fadel Said. Said scored unassisted with 28 minutes to play in the second half for a 3-1 lead, but Lakeview came right back a minute later to again score on a long throw-in that was headed in by one of their players. Coldwater finished the scoring on a Nooh Aljabaly penalty kick with about 3 minutes to play.
Coldwater outshot Lakeview 14-8, with Abdullah Aboali making 6 saves in goal. The Cardinals next action is at the Eaton Rapids/Mason Division 2 Invitational in East Lansing Saturday.
Coldwater also won the j-v match with Lakeview, beating the Spartans 3-1. Scoring goals for the Cardinals were Jonathon Brownell, Brandon Cortez and Mohammed Nagi. Coldwater outshot Lakeview 9-5 with 5 saves in goal for Cameron Barnes.
Last night in volleyball, Union City split a pair at home in a tri-match with Colon and Climax Scotts. They beat Colon 2-0 while losing 2-1 to Climax-Scotts. Individual stat leaders were Marissa Mead with 28 digs, Rachel Wing with 13 kills and Riley Smith with 14 assists and 5 aces. Union City's season record is now 3-7.
Yesterday in cross country, Coldwater, Quincy, and Union City ran at the Springport Invitational, where the competition was split into 3 divisions. In Division One, Coldwater's boys team finished fourth. The Cardinal's top five runners, Zack Murphy, Adam Clemens, Spencer Leist, Shane Dunn, and Jacob Fair, all medaled. In the girl's race, Josilyn Quimby, Rene Aerts, and Kelly Haskin, all medaled, without posting a team score. In Division Two, the Union City boys team took fourth place while the Quincy girls team brought home a third place trophy. Leading Quincy was Haley Bean in fifth place. Meri Michael finished 11th, Gabby Porter was 14th, and Madde Horn took 18th place. Tyler Powell led the Quincy boys, finishing in 22nd place.
In girl's golf, Coldwater took sixth place in an Interstate 8 jamboree at Binder Park hosted by Harper Creek. The Lady Cardinal's team score was 219. Jackson Northwest took the title with a 182 score. Emma Dwyer led Coldwater with a 46. And yesterday in boys tennis, Bronson played to a 4-4 tie at Three Rivers.
On today's high school schedule, in boys soccer, it's Quincy at Hillsdale Academy while in boys tennis, Coldwater plays its Interstate-8 league opener at home against Marshall. Also in tennis, Bronson hosts Kalamazoo Hackett. And tonight, there's reserve football action, including Coldwater's junior varsity and freshman teams playing at Marshall. Also on the j-v schedule, it's Quincy at Springport, Bronson hosts Centreville, and Union City hosts Concord.
Today on the Coaches Corner, it's Union City football coach Chris Davis.