« Shows & Personalities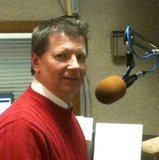 Delaney in the Morning
On Air:

Weekdays, 6am - 10am

Hosts:

Jim Whelan, Ken Delaney
About the Show

Branch County's newsmakers talk with Ken Delaney every morning, along with the latest local news from News Director Jim Whelan, sports, weather, the birthday club...it's everything that's happening in the area.

Show Hosts

Jim Whelan

News Director Jim Whelan is approaching his fourth decade of staying on top of what's happening in Coldwater and Branch County.

Wheels was born in Toledo and moved to K.C. while in grade school in 1962. Jim graduated from the University of Missouri with a degree in Radio and T-V Communications, and later moved to Coldwater in 1974.

Wheel's was called to work at WTVB after stopping at the station and meeting the owners at that time, Paul and Myrt Ruse, who happened to be friends of Jim's sister, who lived in Iowa, where the Ruse's resided before coming to Michigan. Jim was actually in the area for his aunt and uncle's wedding anniversary at Coldwater Lake. Little did he know that the visit to the radio station, not to apply for a job but as a favor to his sister, would be such a life-changing experience. Also ending up in Coldwater after being born in the Buckeye State was Jim's wife, Pat. She moved from the Cleveland area and settled in Coldwater in 1973 and they met two years later and were married in 1976. Pat also works at WTVB and is National Sales Manager for the Michigan stations of the Midwest Radio Group. Jim and Pat have two grown sons, Jim and Michael. Jim's passions outside of his "nose for news," are golf and sports in general. Though he modestly won't admit his feat, Jim recently earned the elite status of landing a hole-in-one at the Golf Club of Coldwater's Hole #4. The ball and scorecard are now lovingly displayed on his fireplace mantle next to his father's, who shot his first hole-in-one at the age of 82. When not amazing onlookers on the green, Wheels also enjoys reading, listening to all varieties of music, camping, walking, and of course, imbibing in a few beers now and then. But first, he says, are his family, wife and two sons, two grandchildren, his four sisters and brother, and the rest of his many relatives.

Ken Delaney

Ken has been a familiar voice in Branch County for a quarter century with AM 1590 and FM 95.5 WTVB, coming to Coldwater in 1984 after graduating from Central Michigan University. Ken Delaney has been a fixture in the Branch County community for 28 years. He is Market Manager, Program Director and morning show host for WTVB-AM/FM in Coldwater, Michigan, a division of Midwest Communications, Inc. He holds a Bachelor of Applied Arts degree from Central Michigan University in Broadcast and Cinematic Arts, with a minor in Political Science. He is a three-time winner of the Michigan Association of Broadcasters Broadcast Excellence Award for On-Air Personality.

Ken is the Co-Chairman of the Tibbits Opera House Restoration Capital Campaign, and Varsity Boys and Girls Soccer Coach at Coldwater High School. He recently retired after 8 years on the Board of Trustees of the Community Health Center of Branch County and is past-Chairman of the Branch County Republican Party. Other community leadership roles have included the Branch County Historical Society Board of Directors, Safety Director for Branch County AYSO Soccer Region 1289, Branch Family YMCA Committee, Branch County Chamber of Commerce Car Show-Swap Meet Committee Chairman, Branch County Chamber of Commerce Political Action Committee Chairman, Family Services Network Board Member, the Branch County 4-H Foundation Board of Directors, and the Branch County SAFE Kids Committee. Previously Delaney has served as President of Coldwater Community Theatre, Vice President of the Coldwater Sister City Festival Committee, and Chairman of the Committee for Branch County Seniors Millage Campaign. Other committees he has served on include the Coldwater Community Schools Technology Committee, the Coldwater Community Schools Elementary Feasibility Committee, the Branch County Local Emergency Planning Committee, the Tibbits Opera Foundation Board of Directors, the City of Coldwater Multi-Purpose Recreation Center Committee, and the Community Action Agency Walk for Warmth Committee.

Ken's wife Christine is the Executive Director of the Tibbits Opera Foundation in Coldwater, MI. Their son Jason is a sophomore at the University of Central Florida and son Sean is a freshman at Coldwater High School in Coldwater.