« Shows & Personalities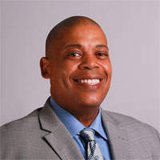 Kevan Browning
On Air:

Weekdays, 8pm - 1am; Sunday, 8pm - 1am
"Smokin'" Kevan is a native of Chicago with over 25 years of experience in the Radio Biz. Kevan's excited to bring his energetic vibe to you and has already fallen in love with his new "Nightime Army!" Happily married for the last 20 years, Kevan's hobbies include reading, writing, Playstation 2(still), listening to his Reggae collection and traveling.

Here are a few of his favorite things:

Favorite getaway spots - Negril in Jamaica, The Grand Cayman Islands and the beaches that have the drinking parrots in Cozumel Mexico, LOL!

Favorite foods - Catfish, Lasagna, Sushi and anything Jerk.

Favorite celebrities - Ellen, Regis and Kelly, Paris Hilton, Bobby Brown and Tina Turner

Favorite singers - Rolling Stones, Luther Vandross, Bruce Springsteen, Linda Ronstadt and Bob Marley!

Favorite actors - Halle Berry, Vince Vaughn, Denzel Washington and Adam Sandler

Favorite movies - Forrest Gump, X-Men and anything with either Adam Sandler or Christopher Walken

Favorite Books/Authors - The Bible, Fodor's Travel, Robert Jordan's Wheel of Time series, Tim Lahaye and Jerry B. Jenkins Left Behind series and Walter Mosely novels.