« Shows & Personalities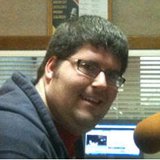 The Evening Journal
On Air:

Weekdays, 5pm - 5:30pm

Host:

Justin Lopshire
About the Show

Justin Lopshire hosts the Evening Journal with Jim Whelan's local news, stocks, NASCAR Today, The Coaches Corner, The Huckabee Report and more.

Show Host

Justin Lopshire

Justin started his career with WTVB in 2002, as a board op, the person who makes it possible for all live remotes to be brought to your radio dial. In 2003, he started co-hosting the Best of Delaney & Ireland in the Morning show with Jim Siler, and became the sole host in 2007. He would later expand his duties to be the guest host for Delaney in the Morning. Currently, Justin Lopshire keeps you up-to-date during your workday with the WTVB Midday Journal, waking you up every Saturday morning with "The Best Of Delaney in the Morning", along with sending you home from work every weekday afternoon on the WTVB Evening Journal.

Justin Lopshire is a 1999 graduate of Coldwater High School (Go Cards!) and currently lives in Coldwater, where he enjoys spending time with friends and family. Justin also enjoys watching many kinds of sports in his spare time.