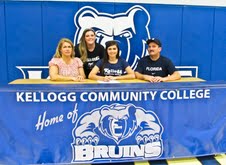 COLDWATER, MI (WTVB) - In Branch County high school sports, last night in girl's soccer, Coldwater lost at Battle Creek Lakeview 8-to-0. The host Spartans were aided by a strong gusty wind at their backs to begin the match and they opened up a 5-to-0 lead at the half. The game ended on the mercy rule with 29 minutes remaining in the 2nd half. Lakeview dominated the offensive play, outshooting Coldwater 20-to-3 on the night. Shelby Bowers made 3 saves in goal as the Cardinal's record slips to 1-4-and-1 overall and 0-and-2 in the SMAC East. They'll host Gull Lake for another league contest tomorrow night. It will be Youth Soccer Night, with any youth wearing a soccer jersey admitted free. There will also be a short exhibition match featuring two girl's AYSO teams in between the j-v and varsity games.
In last night's j-v match at Lakeview, the Spartans beat Coldwater 4-to-0. Alissa Miller had 7 saves in goal.
Also in girl's soccer last night, Quincy had a home match and posted its third shutout of the season with a 1-to-0 conference victory over Clinton at the AYSO Creal Soccer Complex in Coldwater. Quincy spent the majority of the night in Clinton's half of the field, outshooting their opponents 35-to-2. The lone goal for the match was scored by Liz Counterman and assisted by Leona Homeyer. The Clinton goalkeeper made 22 saves, keeping the visiting Redskins in the game. Quincy is now 5-0-1 overall and 2-and-0 in conference play. The Orioles will host Onsted in another conference match tomorrow night.
It was a busy day Monday in boy's golf. The Coldwater Varsity team traveled to Marshall for the first Jamboree of the season and came away with a 5th place finish. Battle Creek Lakeview took first place at 144 while Coldwater had a 176 led by Connor Dwyer with a 41. Also for the Cardinals, Trae McGuire had a 44, Kevin Fishero shot a 45, Nick Waterbury had a 46, Scout Case carded a 47 and Jeff Werkman shot a 53. Coldwater will host a j-v jamboree today with the Varsity traveling to Sturgis for another jamboree tomorrow.
Also yesterday, Quincy finished fourth and Union City sixth in a Big-8 jamboree hosted by Jonesville at the Mill Race course. Ryan Schlueter led Quincy with a 42 while Union City was paced by Jacob Maurer with a 59.
And Bronson finished third in a St. Joe Valley match hosted by White Pigeon at Klinger Lake Country Club. Bronson's Robert O'Rourke was medalist for the match with a 42.
Yesterday in girl's tennis, Coldwater won a SMAC East match at Marshall 5-to-3. The Lady Cardinals swept the singles with victories for Jocelyn Sammons, McKenzie Zinn, Anna Healy and Madison Zinn and also had a win at fourth doubles with Dani Wachowicz and Joylyn Morrill.
In track yesterday, in the Big Eight, Quincy's boy's and girl's teams swept to victory at home over Concord. The Orioles took the boy's meet 71-to-66 while the girls won 75-to-61. For the boys, Levi Drumm was a double winner in the shot put and discus. Markus Loveberry won the two hurdles races and Logan LIndsley won the long jump and 400 meter dash.
In the girl's meet, Bree Spalding was a triple winner in the high jump, pole vault and 300 meter low hurdles. And Union City earned a split at Homer with the boys winning 105-to-32 while the host Trojans won the girl's meet 71-and-a half to 65-and-a-half. In the boy's meet, Chris Maye was a triple winner in the 100 and 200 meter dashes and the long jump. Jesse Anderson won the hurdles races and Adam Reincke won the high jump and the 400 meter dash. In the girl's meet, Brooke Johnson was a triple winner in the 100 and 200 meter dashes and the high jump.
And yesterday in freshman baseball, Coldwater dropped a doubleheader at home to Battle Creek Lakeview 10-to-2 and 16-to-6. Jordan Butler and Addison Duda were the losing pitchers. In the opener, Sawyer Murphy had a 2-run double for the Cardinals while in the second game, Michael Gillette had 2 singles and scored a run while Duda had a 2-run double. The Coldwater freshman record is 2-and-6.
Today's varsity high school schedule includes Coldwater baseball and softball at home against Gull Lake and we'll have the softball action live on AM 1590 and the new FM 95.5 WTVB with our coverage beginning around 5:30 right after the Evening Journal. Also in baseball and softball, it's Quincy at Springport and Union City hosts Jonesville. In track, Coldwater travels to Battle Creek Lakeview while Bronson is at Mendon. And in girl's tennis, Bronson hosts Pennfield.
Today on the Coach's Corner, it's Quincy softball coach Alicia Holland.
And congratulations to Bronson high school senior Miranda O'Neill, who has signed a volleyball letter of intent at Kellogg Community College and will begin playing for KCC team during the fall 2012 season. O'Neill was a member of the Bronson team that won the Class C state championship in 2009. Her honors for this year's squad, which advanced to the state quarterfinals, include making the 2011 All-Academic State Team and the SJV Conference First Team and being named an All State Honorable Mention and SJV Scholar-Athlete.
In junior high track, Bronson had a tri-meet yesterday at Mendon and won the girl's competition while the boy's finished third. Adriana Sanchez was a double winner in the shot put and 200 meters while Lexie Crabill took first place in the 70 and 100 meter dashes. In the boy's meet, Kyle Roberts was a double winner in the 200 meter hurdles and the 100 meter dash.